After writing about my experiences with my two
9mm AR-pattern carbines
, the Colt was subsequently sold off and the RRA/Anvil gun largely sat in the safe, unfired, primarily out of disgust but also due to a lack of opportunity to shoot the gun where a 5.56 was not an option.  However, starting in 2011 I began attending a local speed steel shoot once a month, which in fact was one of the primary reasons for purchasing a 9mm carbine to begin with.  Around the same time, Rainier Arms contacted me about sending me one of their 
Evolution Free Float System - 12.0 for T&E.  AT the time I said "yes" without really thinking about what I would install the handguard on, but once I received it and measured the ID of the tube, I knew that it would fit over the YHM silencer I had on the 9mm and it seemed like a natural fit.
I installed the handguard, which bolts on to the stock barrel nut, without much difficulty.  I pulled the dummy gas block which only served to hold on the plastic M4 handguards via the handguard cap, and cut away the delta ring and spring with a Dremel tool.  The heat sink from the Evolution handguard snapped right into place and the handguard itself slid right over easily.  I used a flat surface to align the top rail of the handgaurd with the top rail of the flattop upper receiver.  I shot several matches with the carbine in this configuration, and it worked well, but it was now pretty heavy, and unwieldy with a suppressed length longer than a standard AR with 16" barrel.
Flash-hider/suppressor-mount, "gas block", handguard cap, and handguards removed
note that the end of the flash-hider stops just short of the end of the handguard
I found a
7" 9mm barrel on ADCO Firearms' site
and ordered one of them.  The new barrel weighs 12.9 oz. compared to the 23.8 of the original RRA 10.5" barrel.  This. combined with the shorter overall weight, made for a much handier carbine.  I would still like to add a hand-stop from Impact Weapon Components Mount-N-Slot just to give a bit more control over the gun, but it's largely unnecessary.
If I was starting from scratch today, I would probably go much the same route as I have here. This gun is a toy, and hence the best way to go about getting to this point would be to assemble it from the least expensive parts I can.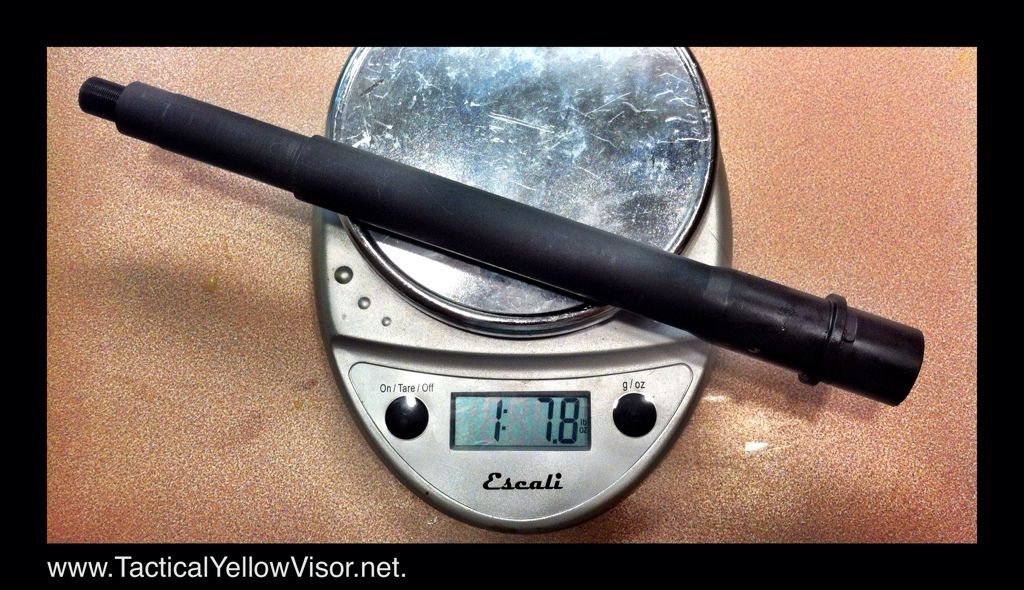 RRA 10.5" 9mm barrel